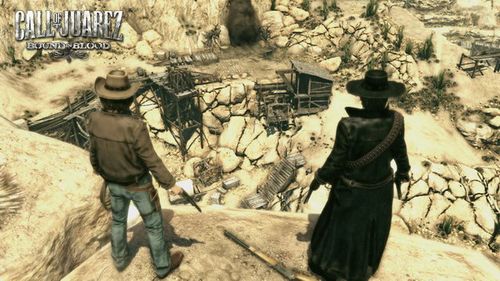 "Call of Juarez: Bound in Blood" already in recently started to press the plate, this will do will sell on July 3. Game's story background occurs west US opens up virgin soil the time, in this firearms is in the legal wild world, also happen to is the first person fire game's performance stage. In the game, plays the family to be going to act Brother McCall, to seek for in the fable the gold, the leads are going to leave the cities which is devastated by the civil war, goes located at Mexico's Aziteke ruins. In Brother McCall eye did not know that what the law is, regarding the impediment in their at present any character, is only then eats a bullet way.
◆ combat teamwork pattern
Plays the family to be possible to choose acts brothers one of them (Ray or Thomas), two people have the different characteristic respectively, for example excels at the close combat or far attacks, use blasting explosive's ability, excels to use weapon which and so on. When combat teamwork, the two brothers may also use the respective merit to come are the shields mutually.
◆ lifelike gun battle
The game will also provide various types different operational weapon, from the heavy-caliber artillery, and so on will have to the common pistol. So long as you will use, they will be your best partners.
◆ advances to the unknown domain
In the game will face each kind of different enemy, will be likely the badman, the Indian, the Mexican bandits, wish revenge colonel and so on, everybody will be coveting that mystical buried treasure. Therefore removes these competitor, is also one in game's profitable targets.
◆ the innovation multi-people play the pattern
In the segment pattern, will play the families by the minute to the different camp, will resist mutually take the team as the foundation. Is guides in the multi-person patterns take the task object as the game, and includes many most representative scenes, for example attacks the bank, to plunder train and so on.
Game's lowest hardware demand
Winodws XP (SP3)/Windows Vista (SP1) Intel Pentium 4 3,2 GHz/AMD Athlon 64 3500+ 1 GB RAM Gfx obviously card Shader Model 3.0 256 MB-RAM
If you enjoy this article or
Eyes in Kaleidoscope
on interest, Please
Subscribe to the full text of this site Feed
.