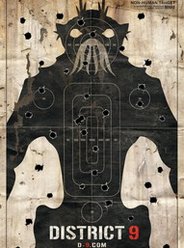 The alien story renovates again
"District 9" are 29 year-old direction Neill Blomkamp acts according to a oneself short movie "Alive in Joburg" reorganizes comes, "The Lord of the Rings" directs Peter Jackson to be the producer, he was "District 9" collects 30,000,000 US dollars investments, movie first weekend's 37,000,000 US dollars has let the Sony reclamation cost sufficiently. "District 9" arrange the alien to become Earth's new immigration very novelly, for 20 years, the government rushes to unceasingly the alien South Africa's slum - - - District 9, carries on the global administration, the actor is government's administrative personnels, carries out the task meticulously, but in him by the alien virus infection, was turned after slowly the alien, only then realized the alien to encounter the unfair treatment.
Playbill stimulation curiosity
The movie was the same with "Cloverfield", has used the massive false documentary film photography form, let the audience think that really had its matter. Before this, the movie propaganda way is also quite novel, pastes the massive picture posters in North America chief city's advertisement delivery area, opposed that "is unfair treats the alien", but also leaves behind the telephone, requests the resident to discover that the alien telephones to report, in addition, but also pastes "the human special place" on bus's seat. The piece side Sony movie industry distributed President saying:"these playbill stimulated people's curiosity, lets them do everything possible to verify the truth."At present, movie criticism website IMDB user is "District 9" split out 8.9 points (perfect score 10 points) the high score, place shade history 35th, Yahoo!'s media commentary is "A-", "Hollywood Report" and "Entertainment Weekly" and so on media give The high praise, the movie are approved are "let the movie which the majority Hollywood big piece face countenance not saves!"
If you enjoy this article or
Eyes in Kaleidoscope
on interest, Please
Subscribe to the full text of this site Feed
.